What are Furniture Storage Units?
Furniture storage units are a great solution for households that need to store excess furniture and belongings during a move or remodel. Furniture storage units are a convenient way to store your belongings until you can move into your new home or take on the next steps of your project. They provide a place for you to put your things so that they will stay clean, dry and safe until you need them again. The self storage facility offers high quality furniture storage for all of your furniture items and more.
Store any kind of furniture in self storage units as they specifically made for storing large items like dressers, tables, mattresses and more. Whether you need to store one large item or a whole house full of furniture, storage units has the space for you.
Tips to Store Furniture in a Storage Unit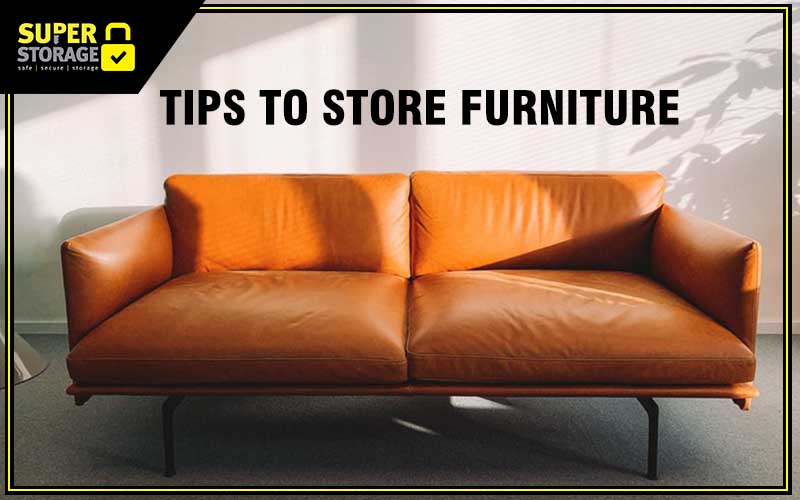 How do you place furniture in a storage unit? These fantastic tips and tricks will help you storing various types of furniture properly and securely in a self-storage unit.
Everything Should be Completely Cleaned

Never place unclean furniture or other stuff in storage units. It will reduce the risk of mildew and dust on stored furniture. Whenever it comes to unloading your unit, this becomes really challenging! If you want your furniture to remain in good form, you must properly clean it before storing it. If some of your furniture pieces has been infested with rotten wood or other pests, have it treated before storing it, or the pests will infest your other possessions as well. Clean hardwood furniture with warm and soapy water and after dry use wax or oil to make it moisturized and in good shape. Polish the silver and metal things to reduce discoloration from oxidation later.

Disassemble Everything

Your furniture, such as bookcases, wardrobes, desks, or chairs, can be dismantled before being stored, do it now. This will make everything lot easier to transfer, and you'll be able to make better use of the space within your storage unit. Smaller items can be stored within desk drawers to save space while also providing extra safety; however, it's preferable to do this once you're within your storage unit to make bigger pieces easier and lightweight to relocate. Small vehicle will be used for dissembled furniture to transport it. Small space will be used to store small objects. So you can batter save your money.

Raise Furniture Off the Ground

If your storage unit is not climate control, don't put your furniture directly on floor. You can add an extra layer of flood protection by raising the floor with boards or cement blocks. Anything is better than nothing, so even a layer of cardboard sheets or a drop cloth will help to keep your furniture of the floor.

Avoid Edibles in Storage Units

Don't ever let edibles in your storage unit that could invite pests or unpleasant insects, if you're storing furniture for a long time. This rule applies to any carton storage containers. While pest control is routinely applied to storage buildings, one cannot be too cautious. Apart from the fact that perishable foods decay and rot quickly, they can also make your storage unit a health hazard for such entire space.

Wrap and Pack your Furniture

Cover delicate things like glass table ceramic tops and mirrors with bubble wrap. Old bed sheets can be used to cover large items to prevent them from dust. Avoid pasting coverings. Avoid wrapping furniture in heavy plastic covers that will trap moisture, since this can produce humidity and cause the furniture to expand. For further security, wrap the glass with bubble wrap or place the entire thing in a box. Use a carton that is big and thick, but not too large, to match the curve of the glass. Any items you'll need to access frequently should be kept in the front of your storage container. If, you won't require things frequently, those can be kept in the very back area of your store.
Why People Store Furniture?
People store furniture for different reasons. At the end of the day, however they store furniture for only one reason: convenience. After all, most people who move to new areas do not want the added frustration of moving heavy furniture from point A to Point B overnight. That's why storage units are great solutions for people who have to temporarily relocate their household items.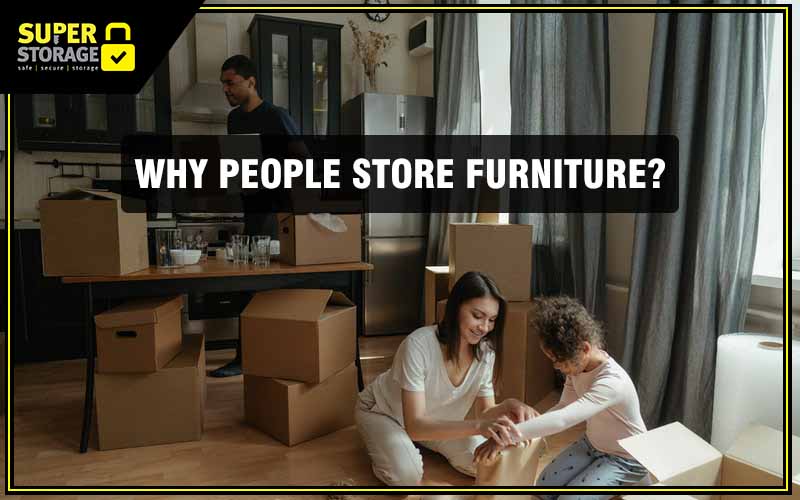 Some of the most common reasons to store furniture in a storage unit include:
Downsizing a Home

Usually, people downsize their home and move into an apartment, condo or smaller house. When downsizing, they may need temporary furniture storage until they have time to sell their items or find permanent housing.

Moving

Moving to a new city or state can be stressful, especially when it comes to moving large pieces of furniture. Self-storage units are helpful because they allow you to store your items before the big move.

Renovating or Remodeling

Remodeling a room in your home can take months or even years depending on how extensive the project is and how much time you have to work on it. In order for the remodel to go as smoothly as possible, you may want to clear out a room by removing furniture and storing it until the project is complete.

Staging a Home for Sale

When staging a home for sale, many people like to remove their furniture from the property so that potential buyers can envision their own belongings in the house or apartment.
Benefits of Storing Furniture in a Storage Unit
If you think that you need to store your furniture, then Self Storage Units are a perfect place for it. There are many benefits of storing furniture in a self-storage unit.
Saves Space in Your Home

The first benefit of renting a storage unit which offers you the advantages of storing your furniture is that it saves you space at home. Your house will be smaller if you decide to store all your furniture inside it. And this means that the size of your house will be reduced by half.
Trained professionals will help you to store all your furniture in the most safe and secure environment possible at low costs. These professionals have been trained on how they should handle different types of materials.

Moving/ Renovating/ Selling

If you are moving from one home to another you may not have enough room for all of your furniture in your new home. It is a good idea to store the furniture until you figure out if it will fit into your new place. If not, then you can sell it on eBay or put it in a yard sale.
A lot of people also use self storage units when they are renovating their homes as this can be a very messy and disruptive process. If you want to avoid having your belongings covered in dust during the renovation process, then self-storage would be an ideal solution. This way, you can avoid having to throw out any of your belongings and have to replace them later.
If you are selling your home, then it is definitely recommended that you use a storage unit because buyers like to see a clean house that has minimal clutter so that they can visualize living there themselves. By placing some of your furniture in a storage unit, it will make the house look more spacious and appealing.

Business Need

A storage units allows your business to utilize or display only your inventory that is required at time of year. For a business that sells clothing, this may mean storing winter inventory in the storage unit during the summer months. This allows your business to utilize your costly office space to display your most profitable inventory.
There is a lot of paperwork involved in running a business. It's an unavoidable truth of life. A unit can be used to store documents that you don't need to access on a regular basis, such as annual performance reports and tax returns. Job applications and customer logs, for example, might be stored in the unit. Furthermore, a storage container is an excellent remote storage solution for sensitive papers such employee names and ID numbers.

Hide Seasonal Items

Hobby-related things, such as ski and surf equipment, can take up valued space in your garage, basement, and other rooms. If it isn't skiing or surfing season, these goods are unlikely to be used again.
To make room in your house, store your belongings in a storage unit. If you retain these objects in your home, you'll be wasting valuable space that could be used for something more important.

Affordable Choice

As opposed to warehouse or other excessive storage options, renting a self-storage unit is an affordable option for most people since units come in various sizes and prices. You only pay for the space that you use.

Security

All storage facilities offer 24-hour security and CCTV cameras so you can be assured that your furniture is safe.

Need Long-Term Storing

Whether you are going on a long vacation or moving abroad for good, storing your furniture at a self-storage facility is safest way.

Convenient

You can easily access your furniture whenever you need it and return them to the self storage unit when not required by paying a small fee. Thus, you can save a lot of space at home without compromising on the comfort and convenience.

Protection

Storing your furniture in a storage unit can keep them safe from damage and dirt. The storage units are made of strong materials that can prevent moisture, pests, dust and dirt from damaging them. The furniture items that you store in the self-storage facility are well secured by the facility itself. This means that no one can steal those items. All you need to do is to choose one of the best facilities available in your area. You can even search online for furniture units near me if you want to find a good facility at your place.
Furniture Packing and Covering Tips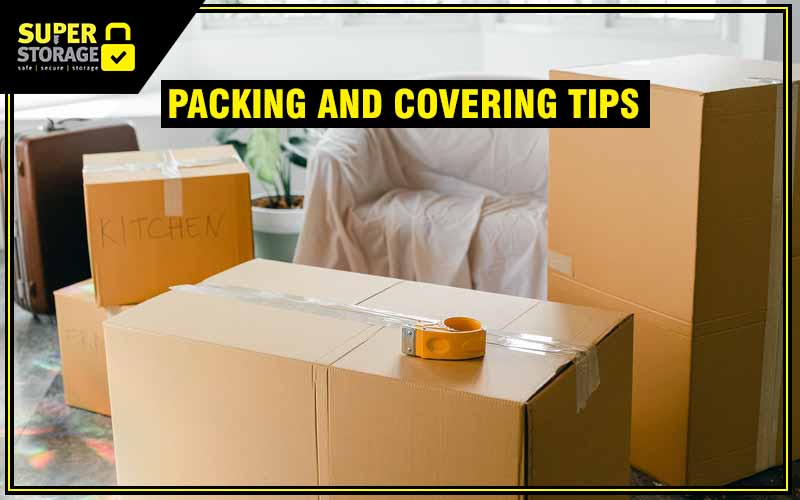 How do you pack furniture in a storage unit? There are many variables when it comes to storing your furniture in a storage unit such as, the season of the year, climate, facility location and size of the storage unit. In this article we will highlight how to make sure your furniture is ready for cold weather changes, where you need to store your furniture in a storage unit and give tips on how cover your furniture for maximum protection.
Before you pack your furniture in a self-storage unit, consider the following:
Pack items that will be stored in self-storage unit with care.
Clean and dry your furniture before storing
Choose the right sized storage unit according to your possessions
Cover your furniture items with moving blankets and shrink wrap them individually
Use heavy duty plastic wrap or wrapping paper on the legs of end tables, chairs and other furniture to avoid scratches
Use stretch wrap to keep the drawers closed during the move
Remove items such as pictures and mirrors from frames before storing. Wrap the pieces in bubble wrap and store them separately in boxes or cartons
When stacking chairs, place a piece of cardboard between each chair to prevent scratching
Disassemble the large pieces of furniture items
Don't use low class plastic for covering your furniture
Label boxes and add an inventory list; this will help you find your belongings easily when you need them again.
What is the Suitable Storage Size for Storing Furniture?
Note down or make a list for all your furniture items that you are going to store in self-storage unit as well as make estimate of how many boxes and other goods you'll need to fit everything in. Understand that when packing and organizing a storage unit, you can fit a lot in if you prepare beforehand. Calculate how much room these furniture items will require and start comparing it to the available area. Carefully select the unit size to avoid causing damage to your furniture by pushing too much into the area.
Calculating the size of storage unit you require might be tricky, specifically if you are going to avail this facility first time.
Normally there are 3 types of units you can avail of according to your need.
Small Storage Units

Small storage units are about 5 to 8 feet or 100 cubic feet in size. They're great for keeping holiday decorations, sports equipment, office materials, and other small household goods.

Medium Storage Units

Medium size units are about 10 to 15 feet or 800 cubic feet in size. They are best to store furniture or big items. They're great for keeping holiday decorations, sports equipment, office materials, and other small household goods.

Large Storage Units

Large size units are about 20 feet or 1600 cubic feet in size. You can save your furniture of more than one room, as well as more boxes, bins, couch, sofas, dining room set etc. in this large sized storage Unit.
What is the Cost of Furniture Storage
People normally ask that how much it costs to use storage units for furniture? Storage is a terrific method to buy yourself some time to think about your options, but what does furniture storage cost? What kind of storage should you go with?
To begin, you must first identify some significant cost-influencing factors: What kind of furniture storage would you require? Will you keep your stuff in your town or in a different location?
Approximately 75-square-foot storage unit, for example, might hold the belongings of a single or two bedrooms. This would comprise multiple boxes of personal possessions, as well as a dining table and chairs, a two- or three-seat sofa, double beds, wardrobes, chests of drawers, and all household goods.
According to the preceding data, the expense of furniture storage unit for a period of month would be around $150-$170 and will increase in long-term storage charges.
The majority of storage facilities feature a promotional deal that lasts between 4 and 8 weeks and some could be longer.
The cost of storage frequently includes the facilities on offer. This could include things like 24-hour security and availability, covered shipping bays, parking, a restaurant and washroom, and post-processing facilities. Insurance and locks aren't usually included in the storage charge, so keep an eye to make sure you're fully informed of all the costs.
Are you looking for a Free Consultation for your storage needs? Click Here!