Are you the one looking for privacy and security for your mail and packages?
Consider renting a private mailbox or PO Box with us. Let us take care of your Packages, Mail and Deliveries if you are busy in your personal life or business.
---
You want to rent a private mailbox and be able to receive mail with confidential documents but you don't want to give your home address for security reasons. Right? You have come to the correct place! We have a solution for you. Our advanced techniques will help you get unoccupied mailboxes from the mail provider.
Mailbox Rental Services for Small Businesses
For small businesses, it is highly recommended to use Mailbox Rental Services. These services are not just for non-profit organizations or corporations; in fact, it can be very useful for all kinds of businesses, from small to large. In order to run your business effectively and efficiently, you must have a place where customers can send your mail.
At a Super Storage Mailbox Rental Services for Small Businesses in UK, you'll find that parcel receiving service is quick and hassle-free. With your hired mailbox account in place, you can start to receive mail immediately. Moreover, if you're expecting a particularly large or valuable parcel, you can even arrange to be notified when it arrives at the mail center.
Remember, with a Super Storage private Mailbox Rental Services for Small Businesses use, you're sure to find a service that meets all of your needs. From fast delivery times to flexible payment options, everything is designed with the customer in mind.
Mailbox Rental Services for Individuals
Personal mailbox rental is an ideal solution for individuals to receive their parcels or other items at a safe place.
With cheap mailbox rental services, your mailbox access is 24 hours a day, will have your personal mailbox address, and you can receive your parcels from any carrier service.
Super Storage rental services are perfect for who need a professional and secure mailing address in UK. As our valued customer, you can enjoy all the benefits at Super Storage Mailbox. We offer very economical payments for all our mailbox rental services.
Benefits Of Mailbox Rentals
Having a dedicated mailbox rental will ensure that all your mail is received on time and safely kept until you pick it up or have it forwarded to another location. If you do not want to keep receiving mails at home or at work, then this is the ideal solution for you!
Here are some of the benefits:
Your mail is safe with us. We will maintain the privacy of your mailbox.
Protect your privacy with a mailbox at Super Storage if you're running a business and don't want your customers to show up at your home.
A mailbox rental at Super Storage shows a street address and gives your business a more professional looking appearance.
We will accept and secure packages and deliveries for you.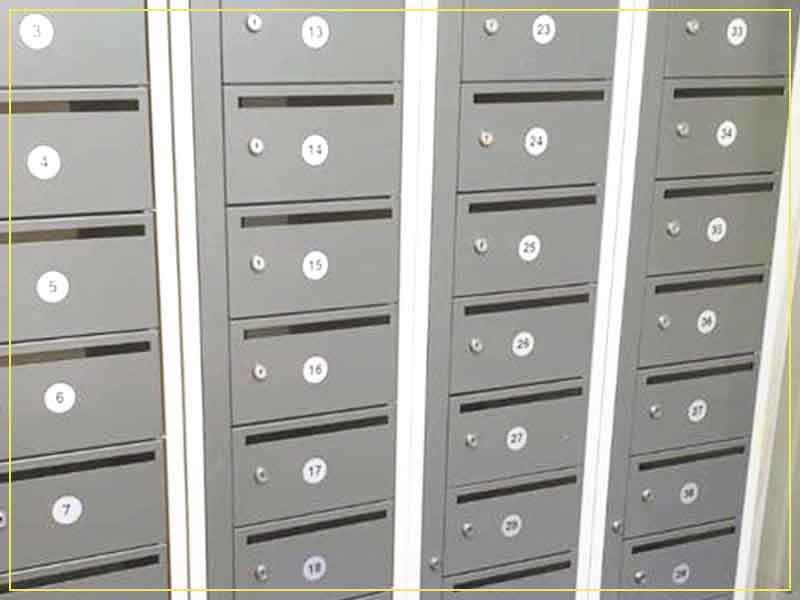 ---
Well, it's a business where you essentially pay a fee to have your own private mailbox and key. You are sent a key through the mail and are able to access your mailbox at your convenience. Some people opt for mailbox rental because it allows them to have an office or residential address without actually having to go through the trouble of buying a business or home. Others use it as a matter of convenience when they are traveling.
This will provide you with a confidential mailing street address where people can drop off your mail rather than having it delivered to your physical home or business address.
This address will basically be the rental business address with your name or your company's name written on it.
It is very simple and free of cost process. As we receive your new mail, you will get an email or SMS notification. That is totally optional and as per your choice.
Most mailbox rental companies state that users are entitled to collect mail only during the agreed upon user hours. You can collect your mail from our stores directly, or have it delivered to your home through our mail forwarding services.
All mailboxes are required to have at least one name on it. However, some residential addresses may be issued 2 names on their primary mailbox, if the address is receiving a large amount of mail.
Yes, Every Mailbox Rental service allows you to receive reasonable-sized packages that will be stored in your box. We will notify you through email once a package has been received.
You, can use our address as your Registered Address. All of your official mail, letters from Companies etc. will be sent to your inbox the same day they are received.
Normally mails directly comes in rental mailbox address and you can easily pick your mail from there. However a rental mailbox user have an option to forward the mail to any desired location by availing mail forwarding service while paying some additional amount to mailbox rental cost.
A private mailbox is a physical street address whereas A P.O Box is just a number. A P.O Box is a box in the post office where you can receive mail and packages but not from other carrier services .You have limited access to your mail because these offices are available only during business hours.
Rental private mailbox gives you 24/7 access to your mail, accepts all carriers and is typically more secure than a PO Box because of its physical location.
If you want your business to accept personal letters from your customers, you can have it both ways: you can allow people to send letters to you, and also collect them from your own mailbox rental company.
The answer is no. A mailbox forwarder can only forward mail to a physical mailbox that it owns or controls.
If you want to send mail internationally, the best option is to use an online service like Google Mail, which allows mail forwarding without the inconvenience of having an actual physical mailbox.