Are you moving home or having a house clear out? Decluttering your home is inspiring but also daunting. Organizing and decluttering is actually really easy to do and can be really fulfilling. There are plenty of smart storage solutions to consider when downsizing your home that make the transition easier and smoother.
When downsizing your home, you're faced with the challenge of finding storage for small spaces solutions. There are so many small items that seem hard to store in a small space.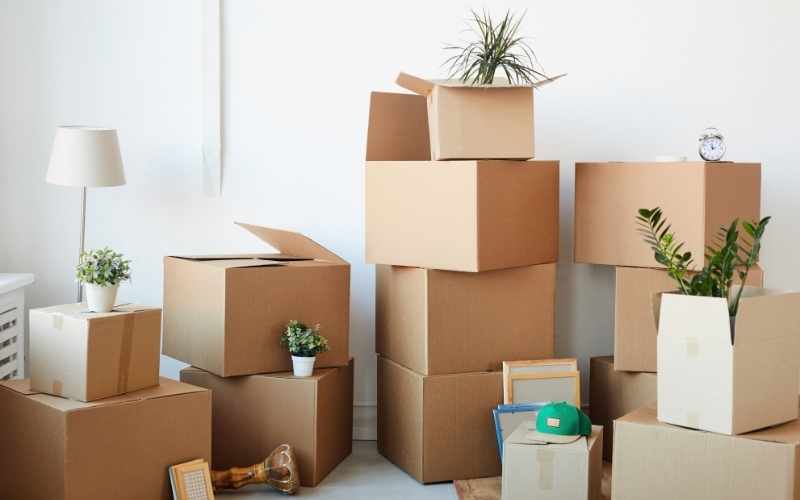 Here are 10 storage solutions for small spaces when you downsize your home so that you can declutter with ease.
Self Storage Units

Self Storage Units are a great storage solution when downsizing. When you are moving into a smaller home, you may not be able to bring all your stuff with you. Self Storage Units can help and make your move much easier.
If possible, rent a self storage unit near your new home so that it is easy to access whenever you need it.


Garage Storage

If you don't want to get rid of any of your items, consider using a garage storage facility. A garage storage unit will allow you to keep all of the possessions that you still want but don't have room for in your new home.
Garage storage units facilitate you to store your extra things and save them for future use. It's so much easier to rent garage storage when downsizing your home.


Wooden Bins

There's no need to invest in expensive containers or fancy storage solutions when you downsize your home. Instead, use wooden crates for creative storage solutions. They're durable, versatile and very easy on the budget.Wooden bins will fit under beds, desks and other places where they won't get knocked over.


Carousel-Style Rack

A carousel-style rack is the solution to your storage problems. A carousel-style rack can hold up to 144 pairs of shoes and still take up very little room in your closet, creating valuable additional space for other purposes.
The carousel rotates for easy access and can be installed in a closet or any other convenient space. The kit comes with instructions and hardware for mounting the rack on a wall or door. It will group like things together and save space vertically as well as horizontally.
This way you can see each can without having to take everything out to find what you want. And since the cans rotate, the ones in back can be easily accessed by simply rotating the rack.


Carts

Carts are really versatile and can move from room to room. Use carts for extra pantry items, spices, bathroom items or in the bedroom for shoes and accessories. They're narrow enough to fit into tight spaces, and they're easily wheeled elsewhere when you need them. Because they can be rolled away, they let you reclaim space for other uses. And the drawers are ideal for keeping small items organized.
One great way to fit your items is with carts. Here are some different types of carts that can help you store your items like:


Utility Carts: You can store clothing and other items in them, then roll the cart into the closet whenever you want or need them.
Tool Carts: You can store tools, hardware, paint supplies and more in these carts, and they help keep everything organized as well.
Kitchen Carts: This type of cart often comes with a butcher block top, drawers and shelves underneath. They also have caster wheels on the bottom that make it easy to move them around when needed.


Closet Organizers

Custom closet organizers can help make your storage space more efficient and usable. The benefit of using custom closet organizers is that they are designed to fit perfectly into your closets. As you know, not all closets are made equal, so it's always best if you have them customized according to the size and shape of your closets.
Closet organizers are available in several styles, so you should be able to find something that will work well in your new home.


Baskets

You can use baskets to keep small items together and organized. For example, you can use a basket for your kids' toys or even for your office supplies. You can also use baskets when storing blankets and linens. While this can help free up space in your closets and drawers, it still allows you to keep those items within reach.
Using baskets is also an easy way to declutter your kitchen. You can keep your cutting boards, cookie sheets and muffin tins in one basket and use another for all of the tea towels, pot holders and oven mitts that tend to get tangled together in drawers. This will make it much easier to find what you need when you need it and keep your kitchen clean and organized.They come in all shapes, sizes, and materials, so you can easily find the right ones for your home storage solutions.


Corner Shelves

If you need to create as much storage space in your home as possible. Corner shelves can help with that. Put them in your kitchen, bathroom or living room for extra storage space.
Corner shelves are an excellent addition to any home where space is at a premium and they provide neat organization when added to any room of the house.
One of the most popular corner shelf designs is the three-tiered shelf. This type of shelf will sit on the floor, but it is designed to fit into corners where shelving would normally not fit. It's also a great way to utilize every inch of space in your smaller home.


Room Under Stairs

This is a great idea! Use the room under the stairs for storage solutions. If you have room to spare, or if you just want a place to store your things, then this is a great way to utilize unused space. You can even use it to store seasonal items that you don't want to take up space in your home.
If you need a spot to store heavy items like canned goods, this is a great place. You can easily build shelves in the area and fill them up with items and then place a curtain or door on the front to keep everything from getting dusty.
You can use adjustable shelves to provide flexibility, deep drawers and cupboards with a variety of internal fittings to maximize storage without making it difficult to access what you need.


Built-ins

When you are downsizing, built-ins will help you maximize space and organization. Plus, they aren't a huge investment in time or money.
Built-in cabinets are an excellent option for those who want to maximize their space while also creating a custom look. When you move into a new place, you may be tempted to just throw all your things into closets or cabinets without giving much thought to how they should be organized. However, having cabinets that have been designed and installed by professionals will help save you time and energy as well as helping to keep your things organized.
Built-ins in a kid's room can also help keep things organized and off the floor. In this bedroom, a wall-to-wall unit with drawers, cabinets and cubbies gives the children plenty of places to put their shoes, toys and books. The furniture is rounded at the corners so no one gets hurt when they run around the room.

Bottom Line
While downsizing your home is an excellent way to cut down on unnecessary possessions, there's still the matter of acquiring extra space. That's where small home storage solutions come in to help.
Whether you're looking for a small closet-like solution that easily fits within your small home or an entire wall-mounted storage system large enough to organize and store all of your essentials, these 10 small storage options can help you get the most out of downsizing your home.
Also Read: 10 Creative Ideas to Create Small Storage Spaces at Home
Are you looking for a Free Consultation for your storage needs? Click Here!