Self-Storage Units are an ideal option if you have to move somewhere and in need of short-term storage solution, or if you possess a small place as compare to things that you have at home and you are searching a place to safely keep them. If you already have some space, keeping additional items in your shed, lofts, cellar, or a room which is not in use might be a good idea for short duration. However, if you are going to store for long duration or furniture in tons, you'll got to check out alternative possibilities.
Table of Content
Purpose or Benefits of Self Storage Units
History of Self Storgre Units
Types of Self Storage Units
Suitable Storage Unit Size
What Should Not Be Stored in Storage Unit?
Self-Storage Association
How Much Does Cost it to Store Furniture?

Purpose or Benefits of Self Storage Units
These storage units mostly are cost-effective to safely place belongings for long as you require them. Several tasks are done in these units. It can relieve some tension of moving by providing a place to keep your items that you have not decided what you will do with yet. Here we have couple of storage unit advantages which will make your life much easier.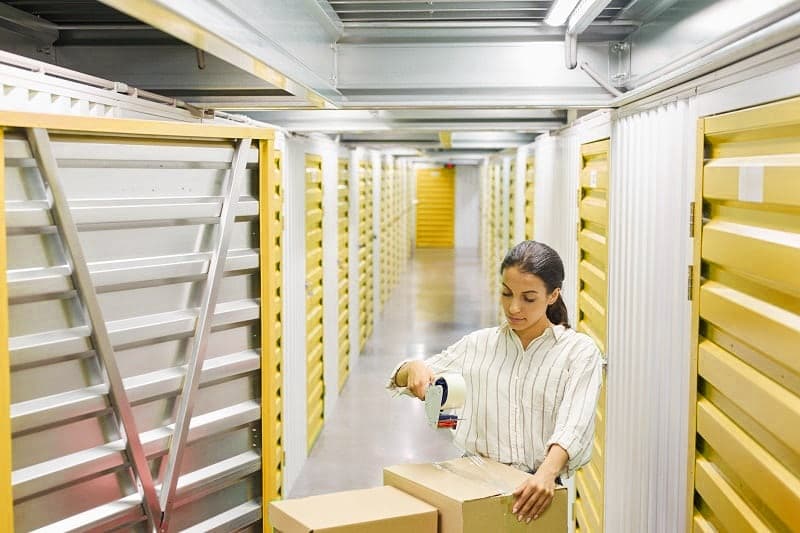 Organize Your Home
Finding time to give everything a "place" in our busy lives is a challenge at the best of times. We often add cabinets that are already overflowing, storing items in the backup for later or overflowing garage.
Well, make an open space and keep your home clean and tidy as well. Enter as much of what you think you do not need right now in the storage unit as much as possible. You can keep things there for as long as you like, and when you finally have a chance to go through it and decide what to do with it, it will be waiting for you in its last container.
Do not make a hasty decision and throw away any regrets you may have later. Put everything in a storage facility not to destroy your house and thoughts and get back to it with a new idea.
Security
If you're concerned about some of your belongings being stolen and don't trust the security of your home or apartment, you can put them safely in a safe and secure storage facility.
Security features comprise twenty four hour video surveillance in and out of the facility, an alarm system, encrypted electronic gates, all of which are meant to keep personal valuables secure while in storage unit. Your cabin is also protected by your lock, ensuring that only you can access it and your belongings. For the last units, you must be sure that your essentials are safe now.
Businesses Storage Needs
The storage unit allows your business to use or display only your list of required names during the year. For a clothing retailer, this may mean storing winter supplies within the storage unit during the summer months. It will allow your company to take full advantage of its expensive office space by displaying its highly profitable marketing products.
Many papers are involved in running a business. It is an inevitable fact of life. The business storage unit can be used to store documents that you do not need regular access to, such as annual performance reports and tax returns. Work applications and client logs, for example, may be stored in the unit. In addition, the business storage is an excellent solution for keeping away sensitive documents such as staff names and ID numbers.
Hide Seasonal items
Recreational activities, such as skiing and surfing equipment, can take up valuable space in your garage, basement, and other rooms. If it is not a season for skiing or surfing, these items will probably never be used again.
To find a place in your house, keep your belongings in a personal storage unit. If you store these items in your home, you will be wasting valuable space that could be used for something more important.
Protection
Storing things in a garage or attic can put you at risk of damage. These areas are often wet and cold and can damage your property. The self storage facility, on the other hand, have a controlled air, allowing you to relax with the assurance that your items are well cared for.
Storage Solution for Moving Houses
The most stressful part of moving to another location is finding all your belongings from one place to another. There are many things to consider, including unloading large supplies, getting enough help to carry all the heavy goods, and making sure there are no shortcomings or breaks during the movement.
Personal storage units can serve as a barrier between you and your new home. You can gradually keep your items in place before the big move, making the process much easier and less stressful than trying to remove everything at once. It gives you extra time to pack carefully and tag everything before you bring it to the unit.
History of Self Storgre Units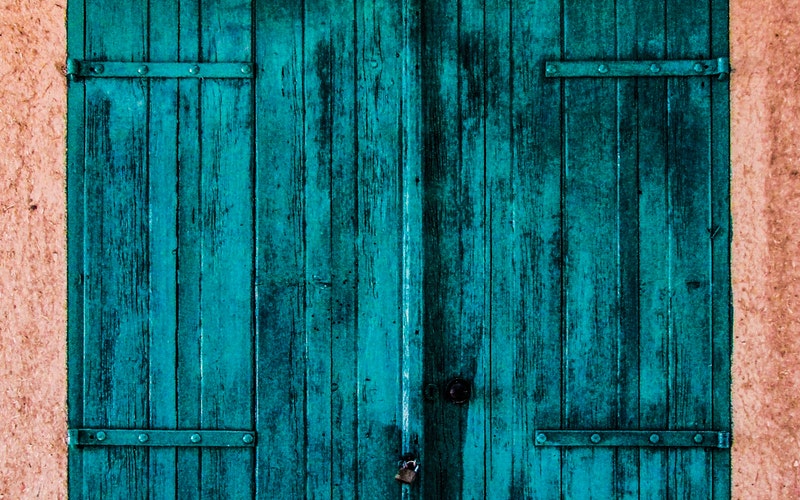 Initially, warehouse was established in the late 1800s and was intended to store additional household and personal items.In 1850s Martin and John Bekins founded Bekins Van and Storage Company. Three horse-drawn buggies or vans were used in the company. These would be used to store commodities or assist in their transportation around the state. The Bekin firm invented self-storage as we know it today.
Types of Self Storage Units
Nowadays, there are primarily four types of self-storage units that may be utilized:
External Storage
These are the most common types of store units. The outdoor store unit has access to the drive that enables loading and exhaust. Just dial up, open your unit, and unpack your stuff. It's that easy! The stylish part about the outdoor unit is that you do not need to pack and move the details down the hallway or elevator.
Internal Storage
Internal units usually accessible only to authorized visitors. Whether your unit is low or high, a high-end interior storage space should be equipped with wide access elevators and free carts to move your items to or from the location as easily as possible.
Climate-Controlled Storage
The climate control unit is intended to maintain sensitive information including electrical appliances, tools, residues, or clothing in good condition. Having this point can help moderate temperatures and humidity within the unit. This goes a long way in preventing carbon dioxide, dust, and other substances that could damage your belongings.
Vehicle Security
If you own an RV, truck, trailer, boat, motorcycle, or Jet Ski, you may be looking for a car park. Car storage will give you peace of mind, extra security, easy access to "pull, crash, and walk", and extra room.
Suitable Storage Unit Size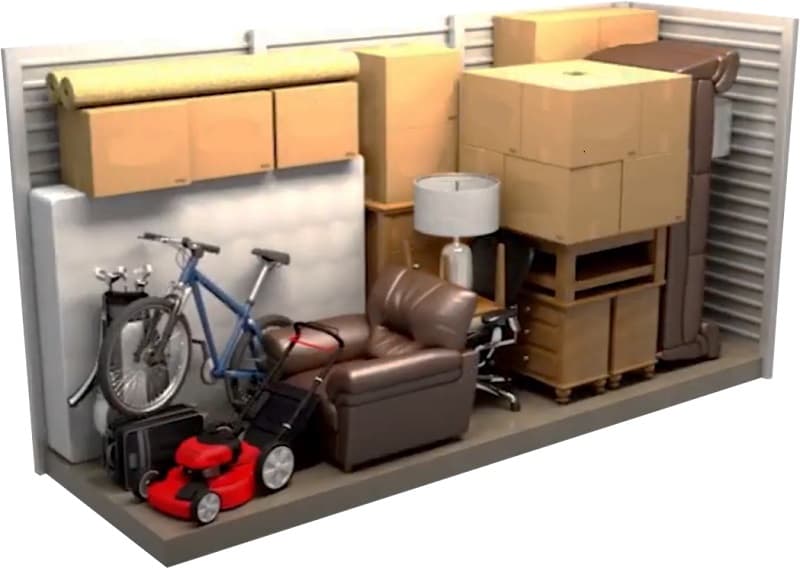 Eventually, the right sized storage unit simplifies your life. You have to search for nice combination of propinquity, security, and price for a positive addition to your life rather than a burden you'd rather avoid. You have to choose unit size according to your need. You will also need to think about what you're keeping and whether or not you want to continue adding in storehouse cabin. Although you can upgrade to a larger unit if you are required more, it'll be nuisance because you'd be required to transfer everything. Rather, consider which unit will best suits you over the long haul. Will you need to store several goods, similar as boxes and cabinetwork, or you only wanting to safe many particulars? It'll be simpler to put everything into your unit if you estimate advanced. Making a checklist of your desires to save right now and what would you want to safe latterly will help you limit down your options. The list doesn't have to be perfect, but the more particulars you give, the more precise your unit measures will be.
What Should Not Be Stored in Storage Unit?
If you want to use the Storage space, you should know the goods that are not allowed to be stored there.
Items that are possibly igneous or combustible.
Very dangerous or toxic substances.
Unused, unregistered, or uncertified vehicles.
Theft and illicit drugs are two of the most common types of stolen goods.
Weapons, ammunition, and bombs are objects that can be found in a bomb.
Rotten things like fruit, vegetables or meat.
Wild plants
Wet material
Living things like humans or animals.
Self-Storage Association
There are many Self storage Associations which help and support the storage unit industry with all possible solutions of issues faced by them. It also guide to improve the quality and effectiveness of self-storage services and facilities. It also Promote awareness of the advantages of self-storage and encourage industry best practices.
How Much Does a Storage Unit Cost?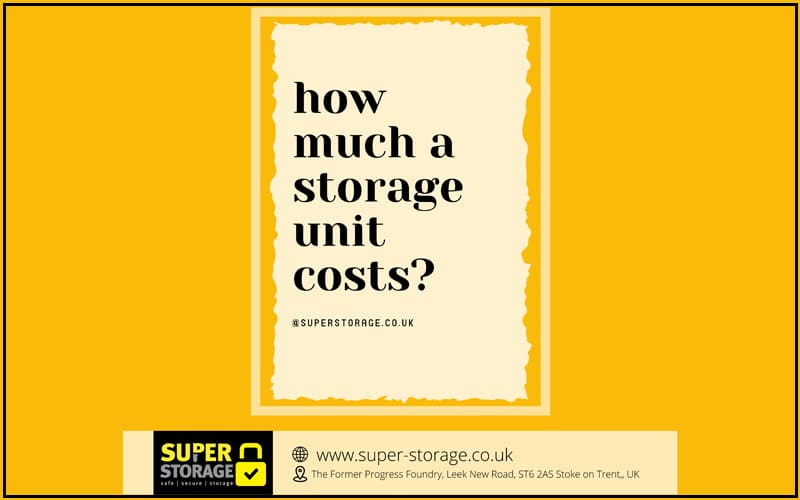 The cost of storage units is different for storing differnt items depends opon what are you storing. You'll need to figure out which storeroom unit size would be best for you depend on the length of the cabinetry you're storing.
Storage unit prices per square foot typically range from $25 to $75, so keep that in mind while planning your budget. In addition, the cost of constructing storeroom units may differ.
Conclusion
Getting a storage unit to put your valuables should be a top precedence for different scripts. You may go this route in events like natural disasters and stock overflow, or if you want to guard your essential particulars all the more. You can also choose between long-and short- term storage options, depending on your need & the service provider. Contact today with a cheapest storage facility to know your options.
Are you looking for a Free Consultation for your storage needs? Click Here!